February 2020
By Charles Drouin
Blog Post
MLSs - SHOULD YOU OFFER A CRM TO YOUR MEMBERS?
The scope of services that should be offered as an MLS member benefit has been an ongoing subject of debate for as long as I can remember. Full disclosure here, I am the founder and CEO of Prospects Software. We're the team behind the MLS-Touch app (Prospects Mobile in Canada) and Prospects CRM, and we're a CoreLogic Alliance member. I've been working with Associations for a long time and like you, I see many things shifting and changing.
Evolution
How many times have we heard that MLSs must evolve? Yet, when MLSs try to innovate and offer additional services to members, you face resistance by brokers concerned that you're leveling the playing field.
While we debate in countless conferences on how the industry is changing, we have to continually challenge the status quo and what is required to help agents better serve their clients, and how the MLS can support that.
Knowing that the core mission of an MLS/Association is to maintain the database, the quality and accuracy of the data, and promote collaboration, what else matters?
Your members are independent salespeople. How can you help them offer a more professional service and earn more business? What can you do to help them secure that one transaction that might very well keep them in business?
The missing piece is Customer Relationship Management (CRM).
Imagine if all your members had a consistent, easy and personalized follow up system to respond to and nurture their leads. Imagine if they had a virtual assistant reminding them of tasks and activities related to their buyer and seller clients. What if they were providing market reports and other value-add content that build trust and authority and position the agent as their local market expert with clients that said they would be selling in 1 - 2 years? What if your members had a tool working for them every day to secure references, referrals and repeat business?
It's clear that a tool like this would help more agents build their business, raise their level of professionalism, and serve their clients in a way that clients expect.
CRM as a member benefit – a shift is happening.
Aside from MLS software, very few products are offered to agents as a member benefit. A shift is happening however, when it comes to CRM!
Not all agents have the benefit of an in-house CRM and even if they do, many prefer the option of an independent solution that can remain with them if they switch brands. MLSs are re-evaluating their roles and starting to make CRM solutions available as part of the basic and essential tool set that agents need to build their business. Are you re-evaluating too?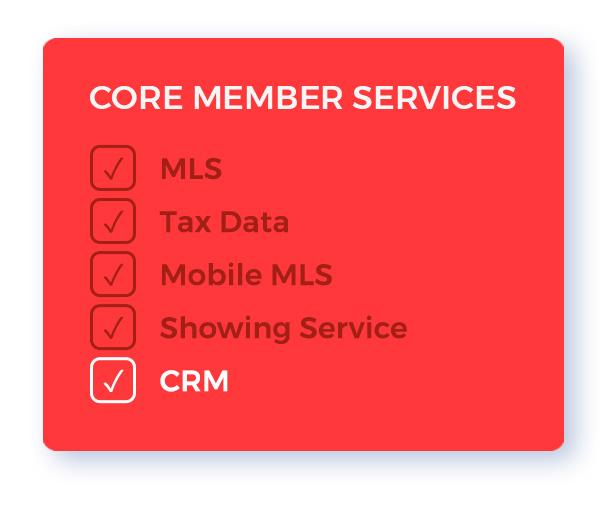 Adoption
Can you get the level of adoption you expect? The key to maximizing adoption with a CRM is integration (and proper training and support of course!). Most CRMs on the market do not work with MLS systems. Agents get discouraged as they need to enter contacts in numerous disconnected places. It's a challenge to track activities like chat messages, sent listings and client Favorites because at any time agents may be collaborating with their clients from their MLS, their CRM, or their phone.
Deep integration links between your MLS software and CRM create huge efficiencies for agents, eliminating the need for duplicate data entry and reducing input errors. It ensures your members have full visibility, through their CRM, into their clients' listing preferences and that all client data, communications and activities are tracked in one place for easy reference and follow up. Bottom line, integration with the MLS makes CRMs easier to use, and much more efficient. This is key to adoption!
Pricing
CRMs are expensive, from $20 to $100 per month, per seat. You're uniquely positioned to leverage your buying power to put a premium CRM solution in your members hands - a CRM that's deeply integrated with your MLS!
Prospects Software has worked with CoreLogic to come up with a pricing structure that makes it easy and affordable for your organization to offer our CRM solution to your members for a fraction of the cost.
Ready to take a look?
Let me show you how we can help your members do more sales! Contact your CoreLogic sales representative or email sales@prospects.com.
You can learn more about Prospects CRM and the integrations with Matrix by watching our short video here.